Shatta Wale Misses The Late Willi Roi As He Celebrates His Video Release With Beyonce
The late Ghanaian musician and music producer Willi Roi who was A/R manager at Zylofon Music has been remembered by Shatta Wale for all the good things he said about him.
Years ago, Willi Roi on Pluzz FM's AM Pluzz hosted by Sammy Flex said Shatta Wale will become an international artiste and will have big collaborations. Just like a "prophecy", he repeated the same thing on Zylofon FM's Showbiz Agenda and Vibes In 5 with Arnold Mensah Elavanyo as the host. People stood against him for taking sides as a father in the music game and also for rallying behind Shatta Wale.
Now Mr. Willi Roi is no more and all that he said about Shatta Wale is manifesting now. So Shatta Wale thought it wise to celebrate him in a live video with his fans. He posted the below on his Facebook.
"We have to Go Live today and celebrate this great achievement ..So don't miss it. Party popper. Red heart. But we can't do it without Remembering all the things this great man Willi Roi said on radio !!! He said one day Ghana will witness just one great collabo!!
R I P Legend !!!!! Salute !!!", He tweeted.
Screenshot below.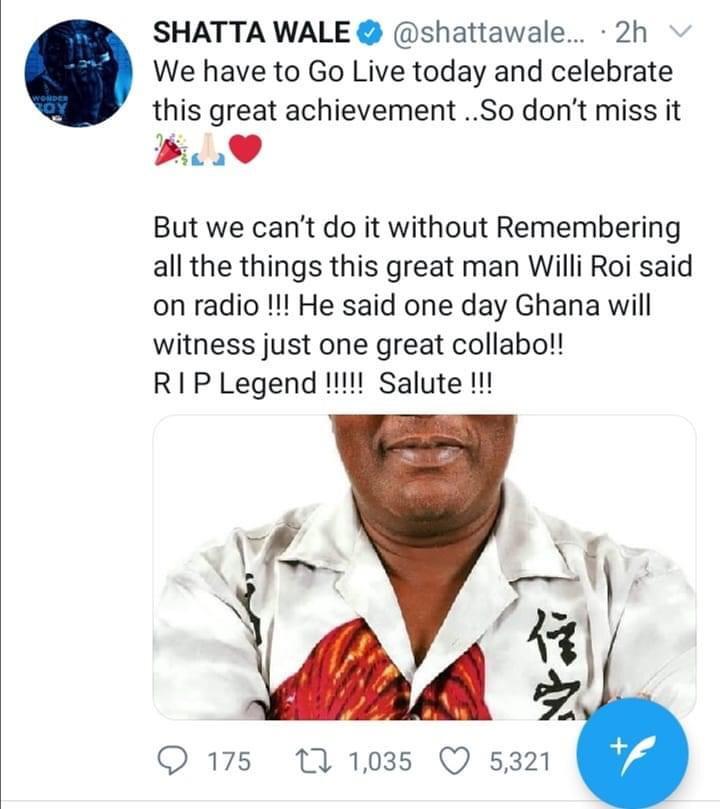 Story by: Emmanuel Lapigee Ofori