Stonebwoy Enjoys Thumbs Up From President Nana Akuffo Addo After A Successful Voters Registration
The first gentleman of the land of Ghana His Excellency Nana Akufo-Addo has given Stonebwoy a thumbs up as he(Stonebwoy) got his voters ID Card ahead of December 2020 elections after a successful registration.
Nana Addo Danquah Akufo-Addo is gradually winning the hearts of some Ghanaian celebrities as he interacts with them on social media especially on Twitter. He smartly congratulated Shatta Wale for his collaboration with Beyonce and now has given thumbs up to Stonebwoy for registering and securing his right to vote in December.
Stonebwoy on Twitter shared this: "Voters ID☑️"
Nana Akufo-Addo retweeted with a comment: "@stonebwoyb 👍👍👍 for registering and securing your right to vote in December. #RegisterToVote2020
"Thanks Your Excellency..
It's Our Civic Responsibility As Citizens Not Spectators 🙏," Stonebwoy in a tweet replied.
Screenshots below: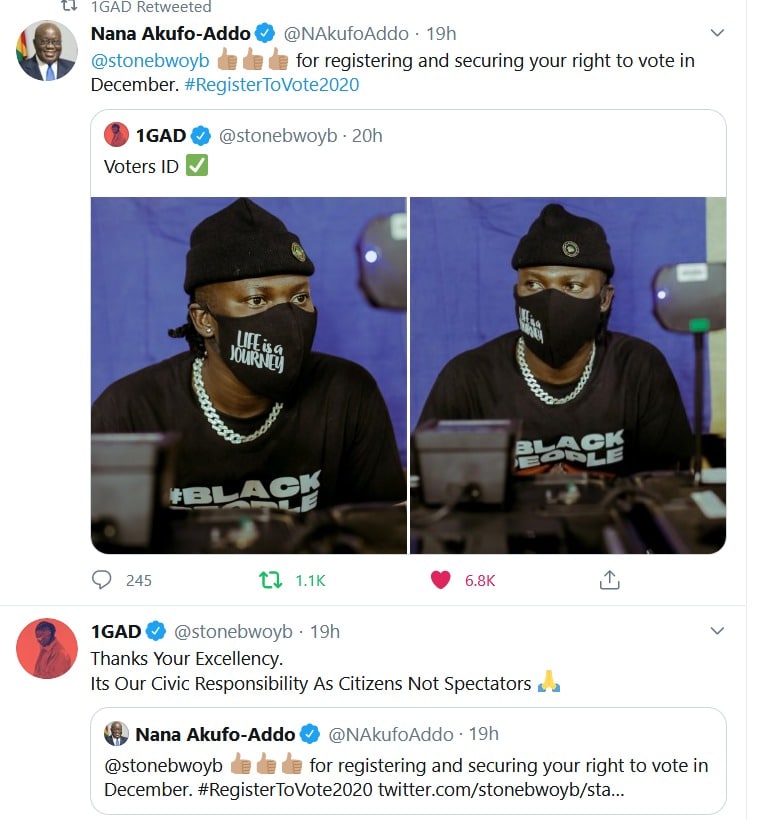 Story by: Emmanuel Lapigee Ofori