Asem Mocks Sarkodie For Taking Stonebwoy Out Of His "Black Love Virtual Concert"
Ghanaian Rapper who is now based in the USA and a former signee of Lynx Entertainment Asem, has mocked Sarkodie for blacklisting Stonebwoy on his upcoming virtual concert.
It's rumored that Stonebwoy slapped "Angel Town"who happens to be the manager of Sarkodie for disrespecting him. It's also alleged Stonebwoy apologized after the incident but he has still been taken out of the concert.
This has given Asem the opportunity to make fun of his rival Sarkodie for not being patient enough. Asem for some months now has been on the neck of Sarkodie throwing punches at him seeking for his attention.
Read Asem`s tweet here: "Sokoi has taken obo)ba ashaiman commando from virtual concert? Because of small sotr) angel obolo tui chop?I don't think that's the best way forward.I was looking forward to him perform Putuu p3tw3
.If stone no go perform then as Musical King I'm cancelling the show
ASEM" he made fun Sarkodie in a tweet.
Screenshot below: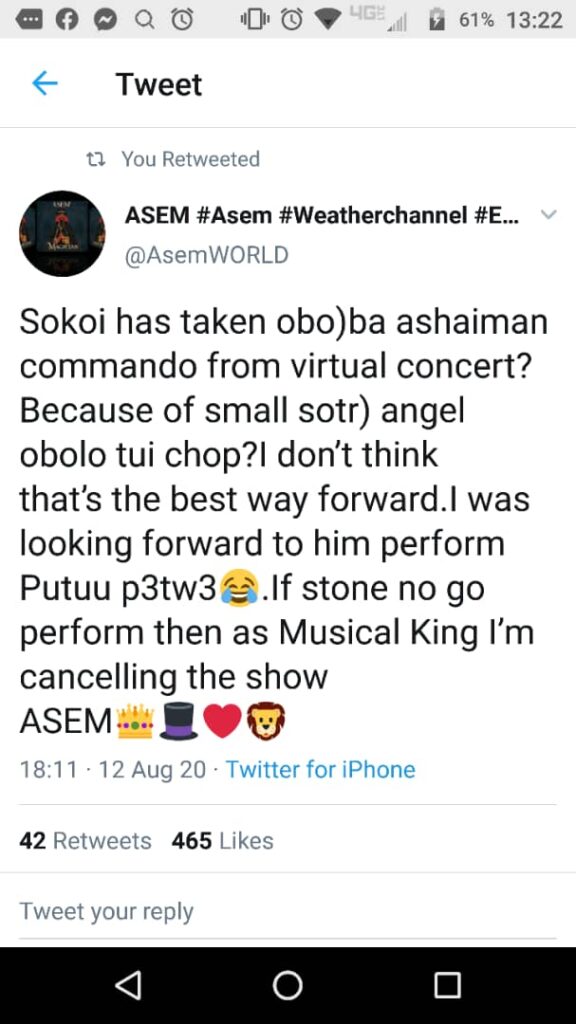 Story by: Emmanuel Lapigee Ofori