Sarkodie Shows Gratitude To His Fans Ahead Of The Black Love Virtual Concert
SarkCess Music president and the most awarded Ghanaian rapper Michael Owusu Addo aka Sarkodie has given thanks to his fan base for waiting online ahead of the show.
On Ceek.com from yesterday, Sammyflextv.com recorded over 20,000 plus fans and lovers who have logged in waiting for the main show to happen.
Sarkodie seeing this was overwhelmed and gave accolades to his fans and all his lovers for being patient. SarkNation has shown much love to their president and its advisable all fan bases in Ghana learn from them as well.
"To have a fanBase who wanna go through the stress of registering on a new platform they are not used to just to witness you perform is everything an artiste would wish for … SarkNation Thank you
BlackLoveVirtualConcert big shouts to @ceek for giving me their platform" Sarkodie thanked his fans base on Twitter.
The show is happening today 16th of August 2020 @6pm streaming on Ceek.com. You can also register www.ceek.com it's free
Screenshot below: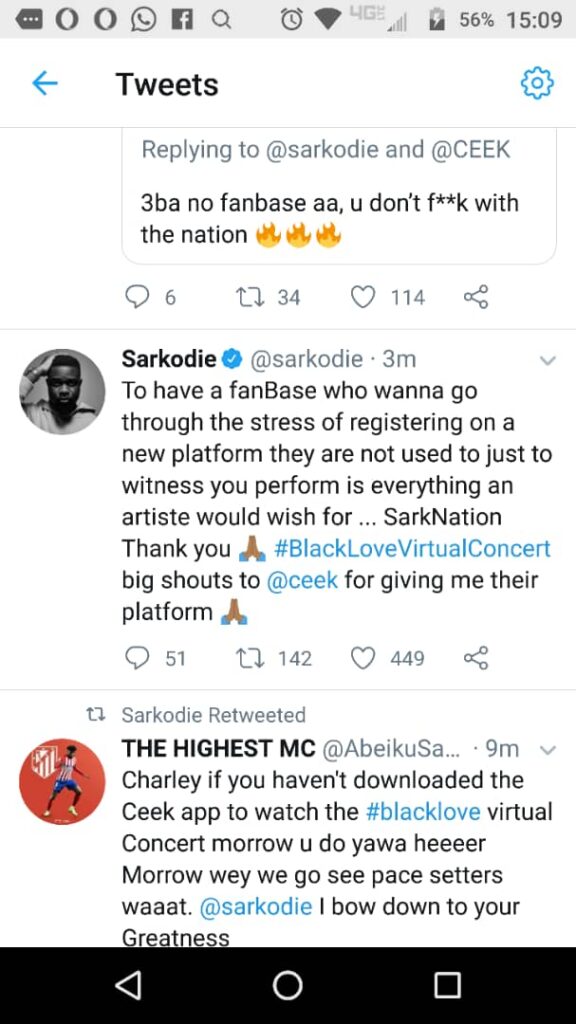 Story by: Emmanuel Lapigee Ofori