"Tweeps" Crown Stonebwoy King Of Dancehall After Sound Clash
Tweeps have crowned Stonebwoy King of Dancehall in Ghana after the Asaase Radio Sound Clash which happened at the Muvenpic hotel.
On the 12 of September 2020, Asaase Radio organized a sound clash between Shatta Wale and Stonebwoy just to know who is who when it comes to dancehall in Ghana.
Both artistes were to perform 40 hit songs each and yes they all made it happen with excitement and energy. 40 hit songs back to back from Shatta Wale and Stonebwoy were dished out to fans as they entertained their fans and patrons.
Asaase Radio as the organizers of the clash refused to mention a winner on the night so Sammy Flex TV also took it upon it self to organize a poll on Twitter to ask who Ghanaians think carried the night. The organizers after 10 minutes of the show shared on their Facebook timeline that there was no winner of the clash and that they did the event to crash Covid.
To our surprise, the results showed that Stonebwoy surpassed Shatta Wale with 79% votes as he Shatta had 20.6% votes.
Screenshot below: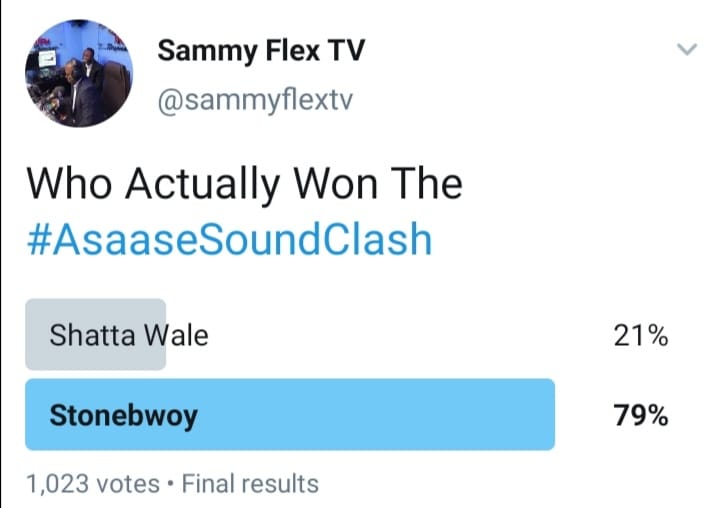 Story by: Emmanuel Lapigee Ofori