President Akuffo-Addo Suspends Political Campaigns; Declares Seven Days Of National Mourning In Honour Of Memory Of Former President Rawlings
President of Ghana, His Excellency Nana Addo Dankwa Akufo-Addo has called off all his political campaign activities and declared seven days of national mourning in honour of memory of former president Jerry John Rawlings whose tragic event occurred at 10:10AM on Thursday, November 12, 2020 at the Korle Bu Teaching Hospital.
The president in a statement released on Thursday afternoon conveyed the deepest sympathy of government and the people of Ghana to the late president's wife, the children and family in this difficult times.
He also directed that all national flags should fly at half-mast for the next seven (7) days in all parts of the country, declaring a national mourning from 13th November to November 20 in honour of the late pformer president.
"A great tree has fallen, and Ghana is poorer for this loss" the president said in the statement.
The suspension is to commiserate with the Rawlings family on the loss of such a great son of the land, former President Jerry John Rawlings.
Below is the full details of the president's statement: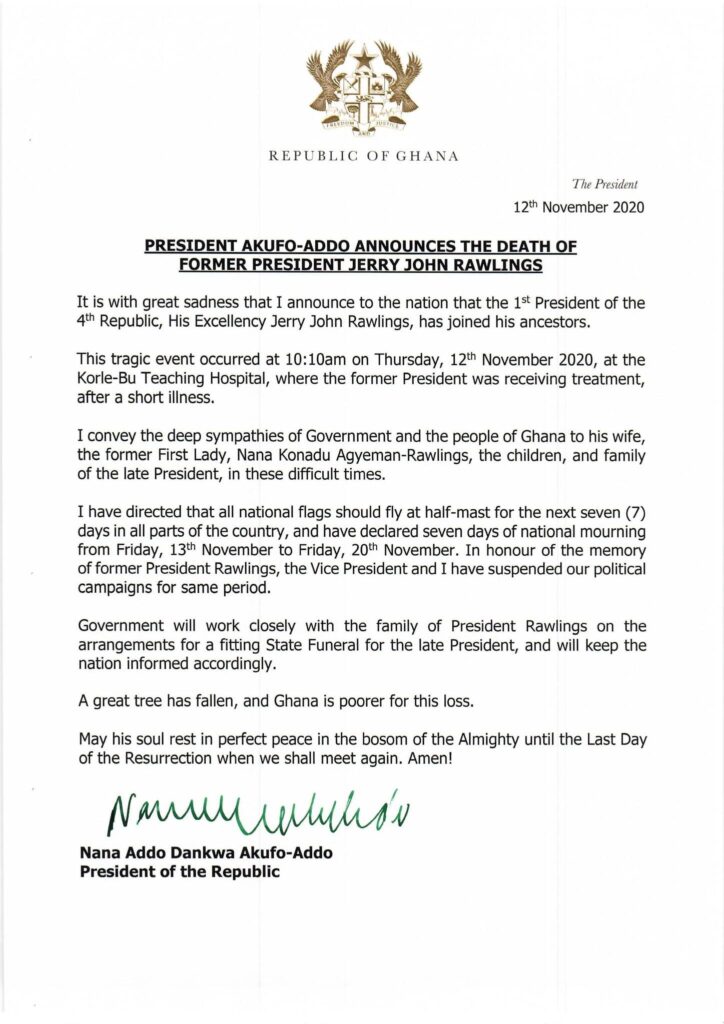 Story by: Reagan O.O.Osarfo (Nana Reagan)