Screenshot: Actress Diamond Appiah Using Her Verified IG Page To Promote Charms
Popular Ghanaian actress/Musician and CEO of Diamond Empire Construction, Diamond Appiah has been seen using her Instagram verified account to sell and promote the use of charms.
It is difficult to tell what will make these public figures use their platforms to be selling and promoting these charms. These are works we normally see Facebook mallams promote on her verified page to their followers, but she posted an #Ad on December 2, recommending charms for favor, good luck and other spiritual use to her followers.
She wrote in her recent post:
"#Ad.. @india_charms My Angels are here to help u with all your spiritual problems and my knowledge in herbs will also help u with all ur physical problems.. Is another woman snatching ur man from u? Is ur business not booming, do u need luck and favour in all ur endeavors, do u need a new car from ur partner, do u want fruit of the womb? Wassap Dr INDIA on 0551283518 or DM for Enquiries". See the post below.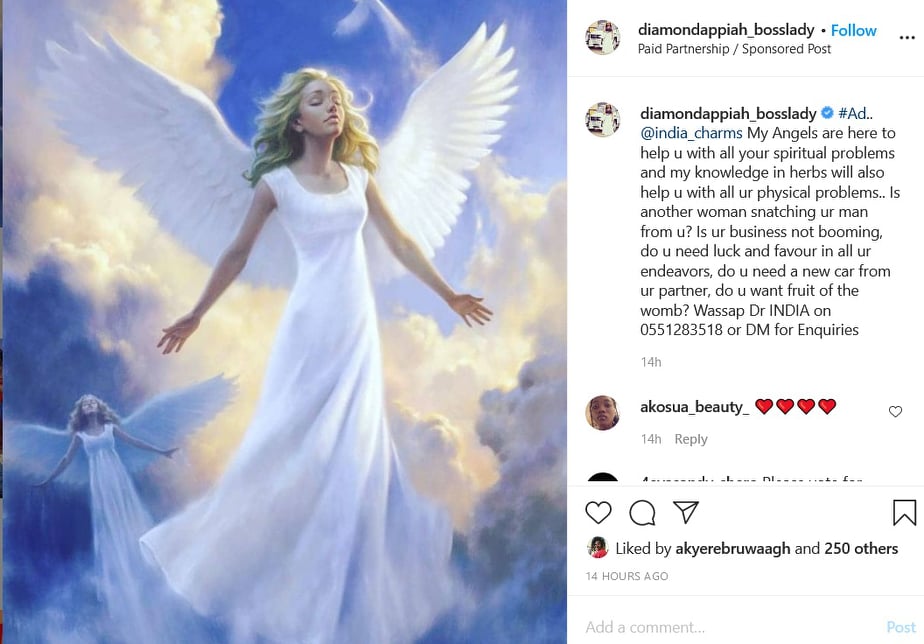 Story by: Reagan O.O.Osarfo (Nana Reagan)