Ghanaians Are Hypocrites – Hammer
Legendary music producer Edward Nana Poku Osei well known as Da' Hammer has said that Ghanaians are hypocrites because they show more love to foreigners they don't know than their their own people.
On his Facebook timeline, he posted that not long ago Ghanaians had some of their legends in the showbiz industry who were seriously ill, but they paid no attention to them by not even posting them to wish them well but they are doing it for a foreigner they've not seen before.
He further stated that the person in question "Dr Dre" who is an American producer and a rapper doesn't even know the country called Ghana to talk of knowing its citizens, but because of hypocrisy they are praying for him and posting him all over.
"Ghana ppl like ahoshish3… see them… not too long ago a legend in our industry fell gravely ill, I didn't see our prayers goes out to this or that… today come see…. Dr Dre this, Dr Dre that, our prayers go out to Dre here, get well soon there.. kw3!! The guy no hear of your town sef, I beg find some place go hide" he shared.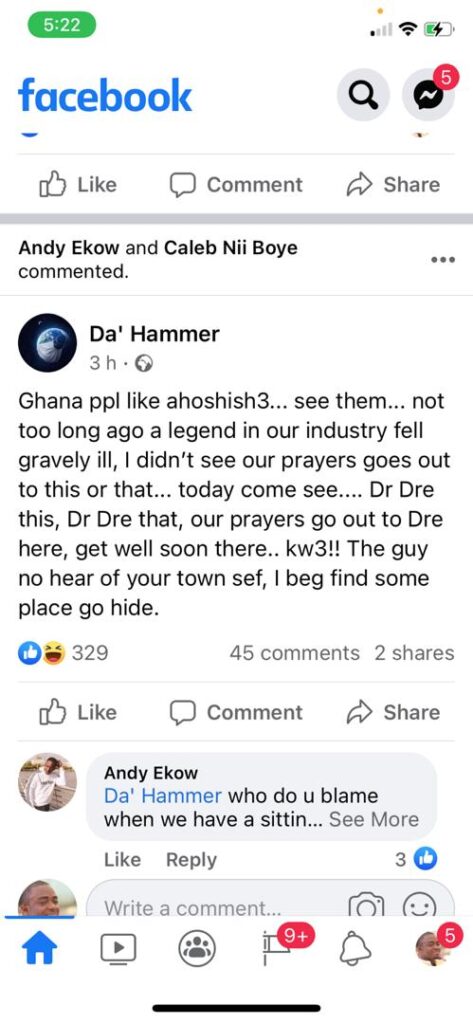 Story by: Emmanuel Lapigee Ofori