Video + Delay Shows Bias In Amerado, Lyrikal Joe Beef & This Is Why
At the time that many are very active following the Amerado & Lyrikal Joe beef to the end, current best friend of Amerado, broadcaster and Youtuber Deloris Frimpong Manso aka Delay has shown an open bias in the on going beef on Twitter.
On twitter, a fan mentioned Delay in a post asking her to interview Lyrikal Joe in her next interview on the Delay Show and to the surprise of many, Delay responded by asking who is Lyrikal Joe, meaning she does not have any knowledge of the rapper.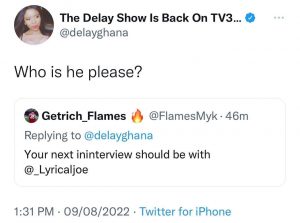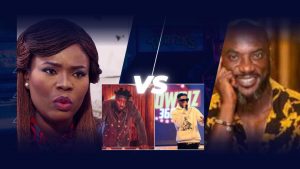 This has attracted comments and reviews and it has been captured in the video below with CEO of Sammy Flex TV (Flex Entertainment) speaking extensively about it with MC Barimah in a segment called Sammy Flex speaks.
In another news, Kwabena Kwabena has said Ghanaians are not treating Black Sherif as a super star and again Sammy Flex took time to review that statement from Kwabena Kwabena calling it lies in his review.
Watch the full video below and subscribe for more!
Story by: Samuel Atuobi Baah