Just In! Shatta Wale Blames Nigerian Director TG Omori For Not Being Able To Shoot Music Videos
Dancehall king Shatta wale has announced that due to Nigeria`s Boy Director aka TG Omori, he will no longer produce music videos for his fans.
He sent a message this evening on his Twitter page explaining that Boy Director was the cause of his inability to make music videos. He claimed that since he hasn't been able to secure a record label this year, his fans should wait and watch him amass millions of dollars.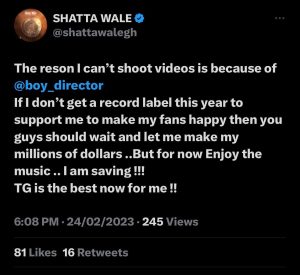 He persisted in advising his followers to keep listening to his music thus the audio for the time being.
Meanwhile, TG Omori has responded by tweeting "Boy x Shatta soonest Insha Allah".
Sandra Writes!!!