Great Ampong & The Ampong Band Set For A Seven State Tour In America This September
In anticipation of their upcoming tour in the United States, Isaiah Kwodwo Ampong, widely known as Great Ampong, recently shared with arts and entertainment journalist Sammy Flex his aspirations to inspire and strengthen people's faith in God through the remarkable performances of his band, Great Ampong Band. Great Ampong aims to establish the band as one of Africa's finest musical ensembles while delivering uplifting messages through their music.
In what appears to be a breakthrough year for Great Ampong and Great Ampong Band, they have achieved several significant milestones and anticipate more to come. Despite the challenges posed by the COVID-19 pandemic, this Ghanaian gospel musician and his band have exhibited immense resilience, producing captivating music that deeply resonates with audiences.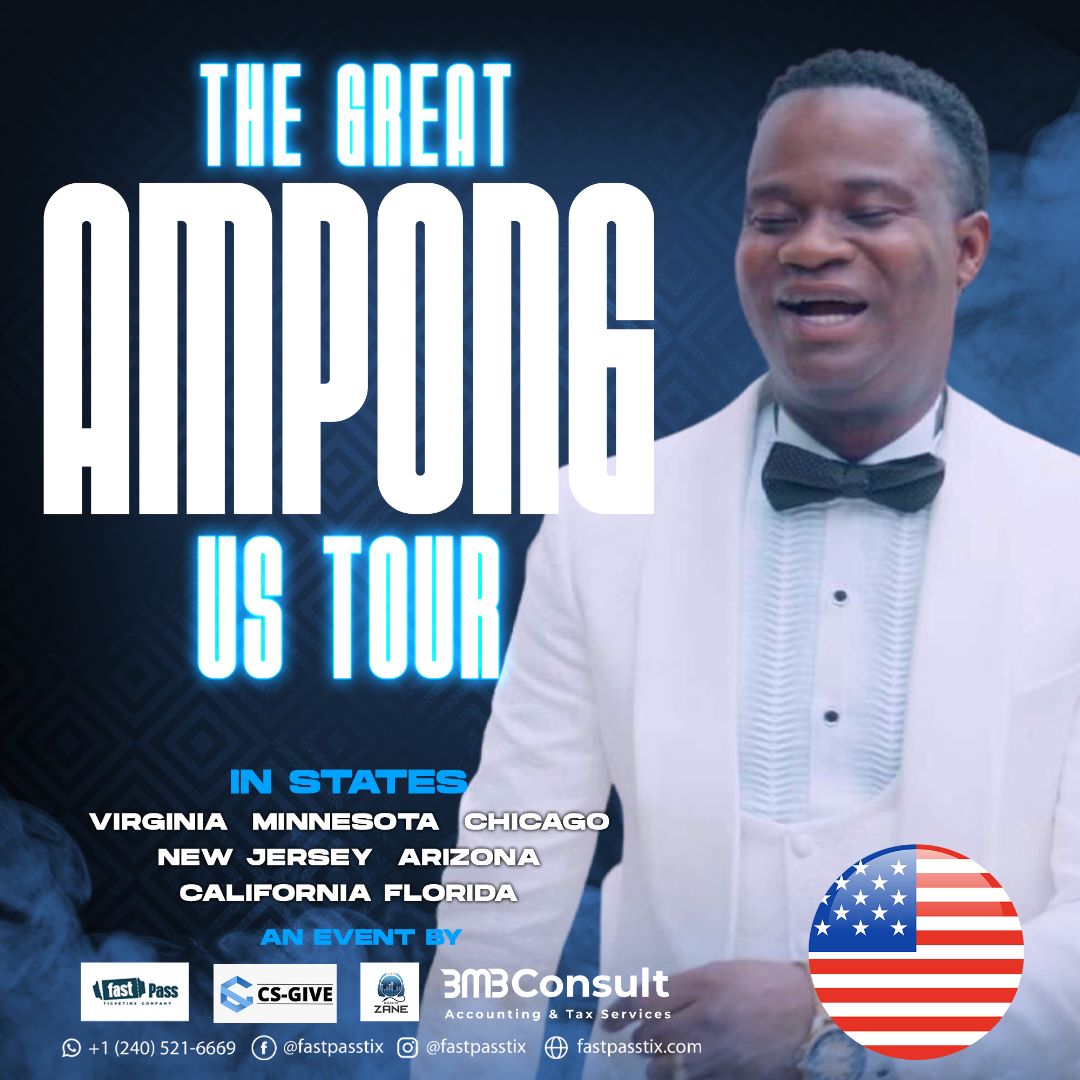 Now that pandemic-related restrictions have been lifted, Great Ampong and his band are ready to elevate their music to new heights. Great Ampong and his band's event/Tour in USA are culturally unique due to Ampong's use of indigenous folktale storytelling in all his music and the aim is to promote Ghanaian culture. This is to bring the rich blend of traditional and contemporary live gospel music to the Ghanaian diaspora worldwide. The prospect of performing and showcasing the beauty of Ghanaian culture to a broader audience fills them with anticipation and excitement. Their unwavering passion for music in the face of adversity serves as an inspiration to all. They humbly request your continued support as they persist in creating boundary-breaking music.
Great Ampong and His Band have successfully won the hearts of Ghanaians, Liberians, and Nigerians both locally and internationally, thanks to their fusion of indigenous, traditional, and inspirational music with contemporary gospel styles. Their unique sound has captured the attention of many music enthusiasts across Africa and beyond.
In September, Great Ampong and Great Ampong Band will embark on their first-ever U.S. tour, performing in seven states. Ahead of this momentous occasion, the band is diligently rehearsing in Accra, honing their craft for the upcoming performances. They aim to pay homage to their roots and proudly represent their home country, Ghana, while carrying forward the musical legacy left by their predecessors.
Already a well-established name in Ghana and throughout Africa, Great Ampong and His Band have captivated audiences with their exceptional vocal talents and electrifying live performances. They have graced numerous platforms in Ghana, including the Ghana Gospel Music Festivals, as well as music festivals in Liberia and Nigeria.
As they prepare to embark on their American tour, Great Ampong and His Band eagerly anticipate the opportunity to spread their music and touch the hearts of even more listeners with their soul-stirring performances.