Sarkodie Exposed? As Ace Hood Calls Him a Liar Over Collaboration Process?
Just one tweet from a Twitter user by name @pnorvinyo_17 has exposed rapper Sarkodie over his claims that Ace Hood's team contacted his American agent for a feature.
The American rapper Ace Hood in a reply to a tweet on Thursday said everything the Ghanaian rapper said in the interview video attached to the tweet are untrue. "A lie smh. But I wish him well!," the American rapper wrote under the post
In June 2015, the two rappers hooked up and released 'New Guy'. In an interview to promote the single which was originally set to be a part of the Tema based rapper's album, he claimed Ace Hood reached out to his team for a collaboration adding that he did not announce it because he was unsure.
The song which was originally set to be a part of Sarkodie's album was released to critical success with critics saying it was a must-have.
"I didn't make any announcement because basically I was just you know, I kind of doubted it. By then of course, such a call makes you feel like it`s a prank or something but I got a call from my agent in the States who told me that Ace Hood contacted. Mostly if it will happen, it happens the other way round when Africans try to get the attention of these people" he stated.
However the American rapper Ace Hood reacting to the video says claims by the Ghanaian rapper are not true.
After Ace Hood`s reaction to the interview, twitter is buzzing with different reactions from fans of Sarkodie and followers of the American rapper.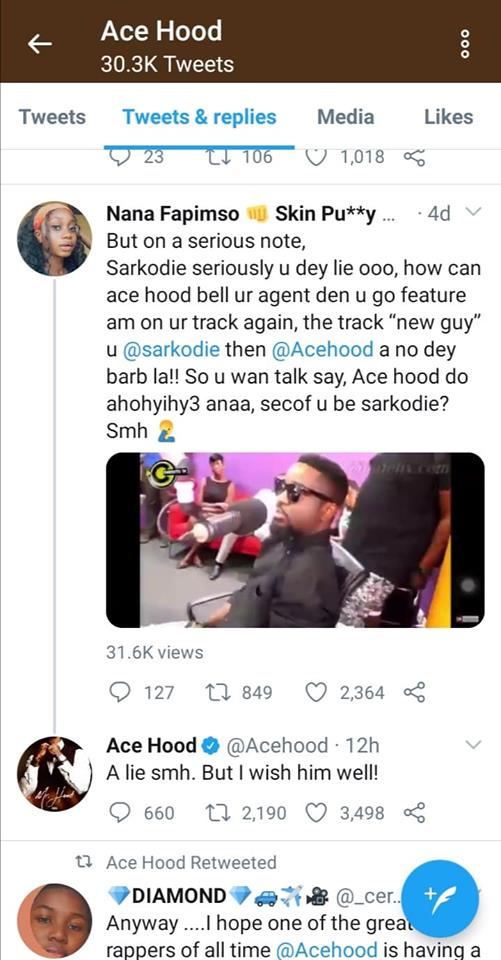 Story by: Reagan O.O.Osarfo (Nana Reagan)