Wei Ye Oteng Criticizes NPP Musicians Over Rushed Victory Songs For President-Elect Nana Addo Dankwa Akufo-Addo
Music producer and CEO of Drum Lyne Music Wei Ye Oteng has criticized musicians who are sympathizers of the New Patriotic Party (NPP) over rushed and cheaply composed victory songs for the president-elect, Nana Addo Dankwa Akufo-Addo.
According to the music producer, the songs out there so far are substandard songs and were not properly produced. He feels these musicians should have taken their time to compose these songs before releasing them.
In a post shared on his Facebook page, he said these musicians are rushing to release songs just to be recognized and are not putting any value on their works. He said creative arts people cannot be taken serious when musicians release works like these songs.
"Dear NPP musicians (SOME) pls stop the shitty victory songs, they are very bad and not well produced, victory songs are not by force. U ppl don't take ur time, just rushing to be recognised. No wonder we are never taken serious. Put some value on ur craft.
Otengbeats #WYO #Obrafour #drumlyneent #TheSmoke #behindthesmoke" he said in his post.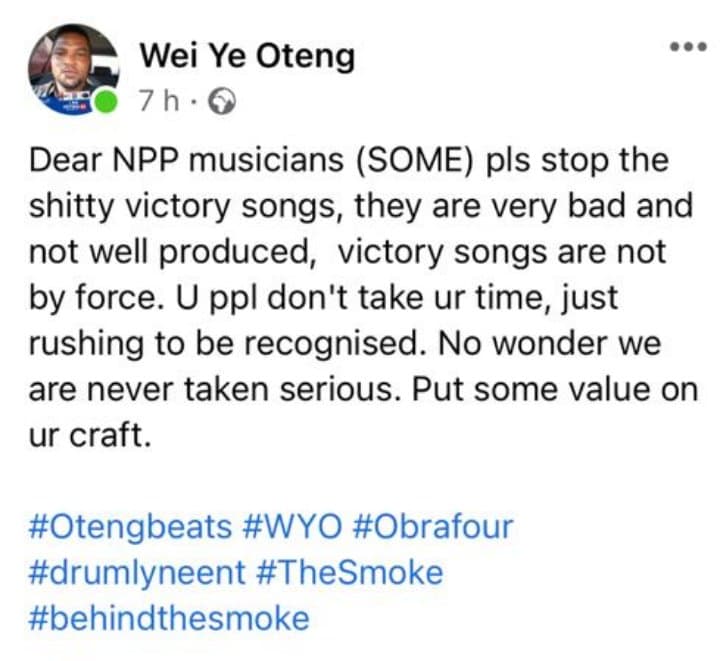 Story by: Reagan O.O.Osarfo (Nana Reagan)