Screenshots: Mzbel's Propaganda Gone Bad As Bola Ray Issues Disclaimer Over Fake Post
Mzbel has found herself in another social media squabble after crediting a fake post that seeks to criticize the Electoral Commission Of Ghana over the recent announced recess to radio/television personality and CEO of media conglomerate, EIB Network Group, Nathan Kwabena Anokye Adisi, popularly known as Bola Ray.
The hiplife singer and sympathizer of the National Democratic Congress (NDC) has swallowed back her words by deleting her previous propaganda post which she said Bola Ray wrote but hasn't issued any apology yet.
The said post exposed the CEO of Empire Entertainment to social media insults and he had to issue swift disclaimer to the post warning the '16 years' hitmaker to leave him out of his politics. He shared a screenshot of Mzbel's post with this caption: "Kindly disregard this. It is FAKE. I have written no such thing. Do your politics but LEAVE ME OUT OF IT".
Few minutes after Bola Ray's disclaimer, Mzbel also came back to share screenshots of threats she is receiving from some unknown persons after her propaganda post went wrong.
Below are some screenshots: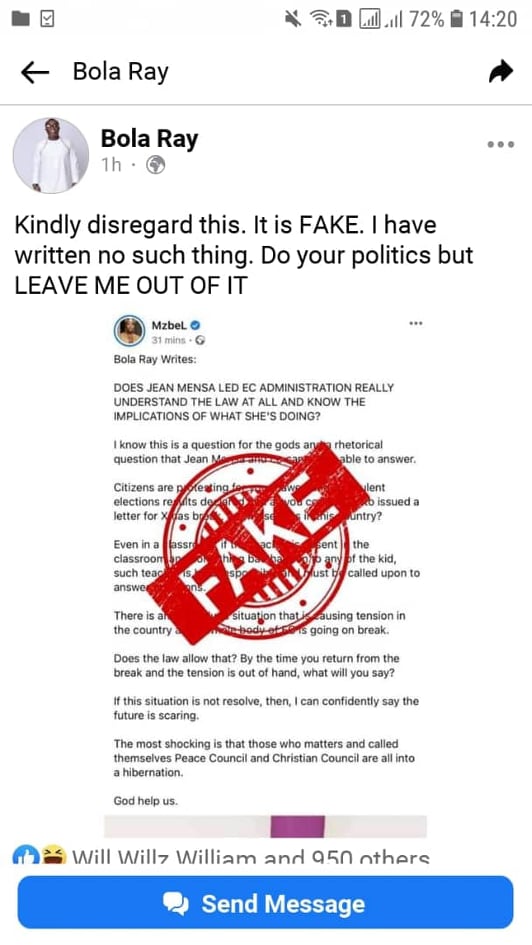 Story by: Reagan O.O.Osarfo (Nana Reagan)