Keep My Name Out Of Your Unhealthy Conversations Please! – Efia Odo Pleads With Ghanaians
Ghanaian model and video vixen Efia Odo has cautioned Ghanaians who like to talk about her negatively to keep her out of their conversations.
On Twitter, she made it clear that, she is minding her own business now and she wants to be at peace so no one should drag her into any negative conversations.
It's obvious Efia does not want to be known for negative trends in Ghana again because of her warning to those who love to drag her name into their unhealthy conversations.
"I've been minding my business. Keep my name out of your unhealthy conversations, Please !" Efia pleads on Twitter.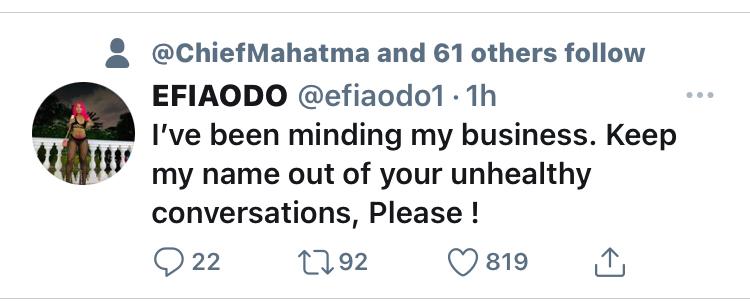 Story by: Emmanuel Lapigee Ofori