Salma Mumin Not Happy With HITZ FM For Calling Her A Liar
Actress and entrepreneur Salma Mumin has disclosed how offended she is as Hitz FM makes mockery of her on the MTN mobile money saga.
On the 15th of January, Hitz FM held an award ceremony with the theme "something wicked awards" which happens every year. The award is given to those who made controversial headlines within the year under review.
This year Salma Mumin won in her category "Liar Of The Year". She won because of her MTN saga. Last year, she posted on her Instagram wall claiming MTN has stolen GHC10,000 from her momo account but later apologized because it was false.
Salma Mumin feel disrespected for a whole organization calling her a liar and making mockery of her.
"HITZ 1039fm Liar of the Year.
WINNER: Salma Mumin accusing MTN for fraud. #SomethingWickedAwards" Hitz FM posted.
"salmamumin Wow a whole organisation trolling? You didn't even know the whole story! I feel offended!!!!!!" she replied.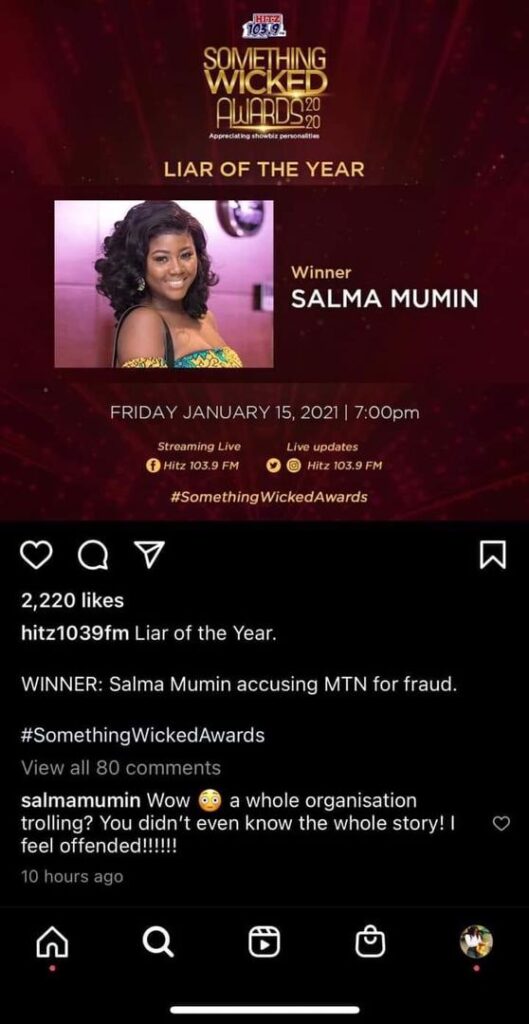 Story by Emmanuel Ofori Lapigee