Screenshot: MOG Beatz Pays For Tweep's Laptop
Begging online is gradually becoming a norm, thanks to social media. Seeking monetary help through social media has emerged as a new phenomenon, with many users often taking advantage of people's empathy and goodwill with false claims.
Meanwhile some public figures have found ways of authenticating the source and reasons for the need to help and are touching lives on social media amidst some fraudsters making false claims.
Ghanaian record producer and musician John Kwesi Dosunmu-Mensah better known as M.O.G Beatz, is one of the few socialites that has surprised the beggars recently.
On Monday March 1, the music producer responded to one of such messages and surprised the tweep by paying for a laptop he was in dying need of.
Tweep @bhimfront tweeted at MOG: pls MOG, gud afternoon ,pls my laptop for graphic design spoil, i need only 1000ghc , pls i beg with the name of God @MOGBeatz
Numba One First place medal @MOGBeatz responded to the tweet saying: DM me your momo number
Few hours later, the tweep shared a screenshot confirming payment:
@bhimfront: @MOGBeatz MOG boss you shock me oooooo, God bless you nd ur family my boss , am spechles boss Folded handsFolded handsFolded hands God bless you paaaaa twitter.com/MOGBeatz/statu…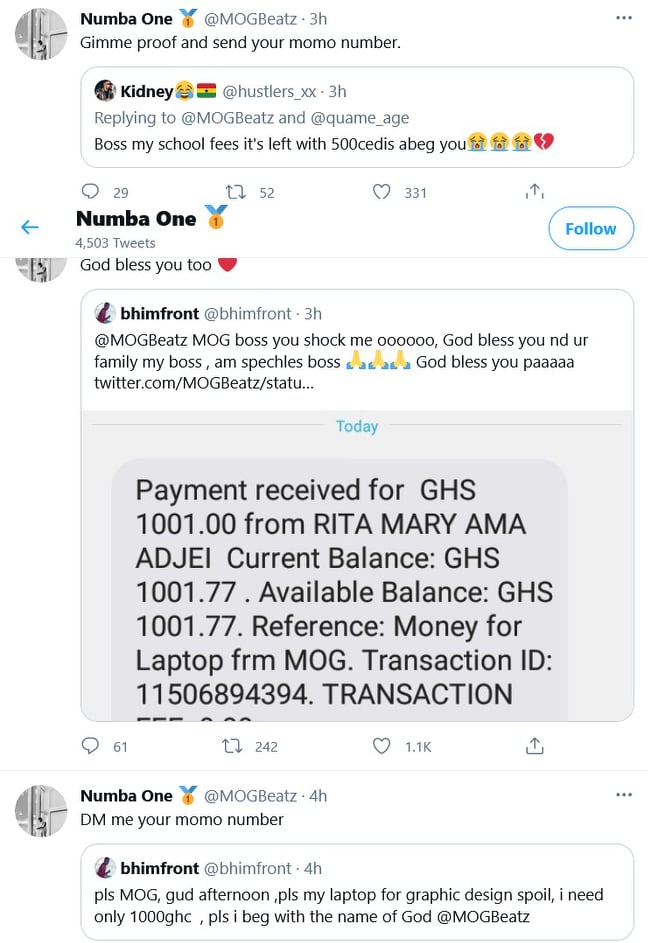 Story by: Reagan O.O.Osarfo (Nana Reagan)