King Jerry Expresses Disappointment After Losing In 3Music Awards To Stonebwoy
Popular singer King Jerry seems not to be satisfied about the outcome of 3Music Awards Most Viral Song Of The Year and has expressed disappointment after losing it to reggae/dancehall artiste Stonebwoy.
Subsequently, he took to his Facebook page to explain why he thinks his 'Sankofa' song went viral and deserved to win that category over Stonebwoy's 'Putuu' song.
He wrote:
"Sankofa song went viral alongside a dance called body beat since last year lockdown till today,At that time do we have any song computing with Sankofa,Big No,Only God knows why,But anyway thanks to each and everyone one who spent his or a time and money to voted for me,God bless you all🙏🏽 Peace💥Watch out for more hit🔥2021,Laughing them😅".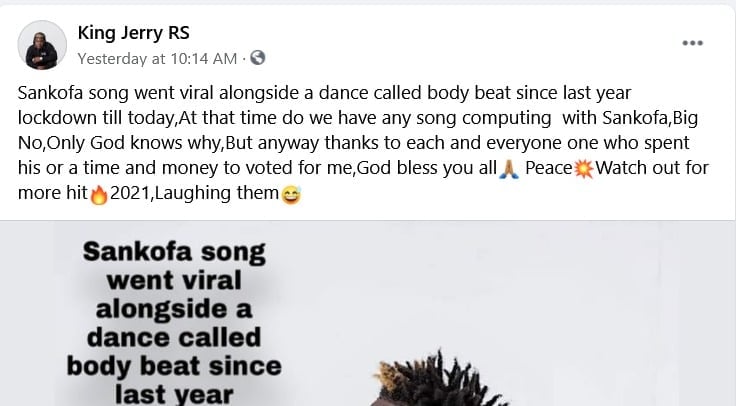 Reagan O.O.Osarfo (Nana Reagan)